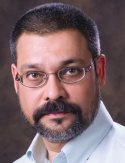 Syed Imtiaz Hussain holds two Master's degrees, one in Political Science and another in Administrative Science (Human Resources) from University of Karachi. Before receiving his Master's degrees, Imtiaz received a postgraduate diploma in Public Administration. He also holds Bachelor's degrees in Law and Arts.
Imtiaz has more than twenty-eight years of experience as an HR Practitioner, working in HR management and legal and industrial relations for prestigious multinational as well as national organizations.
Working in multi-faced disciplines of HR has developed his vision and skills in practical applications of management theories and techniques, while working with other people to gain practical insights into group and teamwork.
Imtiaz has lived his experiences, not just studied them. He has dedicated his life to helping HR Practitioners achieve their dreams. He is an expert on HR competency and knows what it takes to win.
He is the founder and Executive Director of World of Human Resource Professionals (WHRP) in Pakistan, a private non-profit association dedicated to developing human-resource professionalism in Pakistan. WHRP is a body of human resource professionals in Pakistan committed to gain international recognition as human-resource professionals.
Imtiaz is passionate about human resources. He believes organizations that invest in people can face the global economic and technological challenges in better way. For Imtiaz, HR is a business unit for an organization's ability to win in the "game of business" by leading and leveraging people and properly recognizing and rewarding high potential and performance.
Imtiaz is a member of the senior management team in his organization. He is responsible for providing overall leadership and contributing to draw up of policy for effective HR management in strategic areas of; Staffing, Compensation and Benefits, Employee Relations, Organizational Development, Industrial Relations and Training.
He enjoys sharing his knowledge and experience with young HR Professionals by presenting his thoughts and vision to students of Universities and Colleges through Seminars and Conference.
On the personal side, he married and has two sons and one daughter. His interests are Cricket, Chess, Paintings, Traveling and Reading.
His most recent book, released in September 2007, is "HR Global Challenges" (available at www.iuniverse.com), a book describing how developing nations can find their dreams by demanding excellence in the workplace. He will be publishing very soon another book entitled "Unique Skills in Demand".
If you have questions or comments about this article, you can contact Imtiaz at imtiaz@whrppk.com